Monrovia, California sits at the top of the list of nicest places to live in California. With sufficient parks, restaurants, and recreational centers, it is just great for families and individuals looking for a suburban feeling. Discover the best places to buy a property in this area with our Monrovia California Zip Code Map.
Monrovia California Zip Code Map
Excellent work prospects, top-notch educational system, and beautiful weather are just a few of the benefits available to residents of Monrovia, California. There are just two zip codes in Monrovia, compared to other counties in the United States that boast cities with a large number of zip codes. Let's find out what the delights that these zip codes and summarily, Monrovia has in store for you.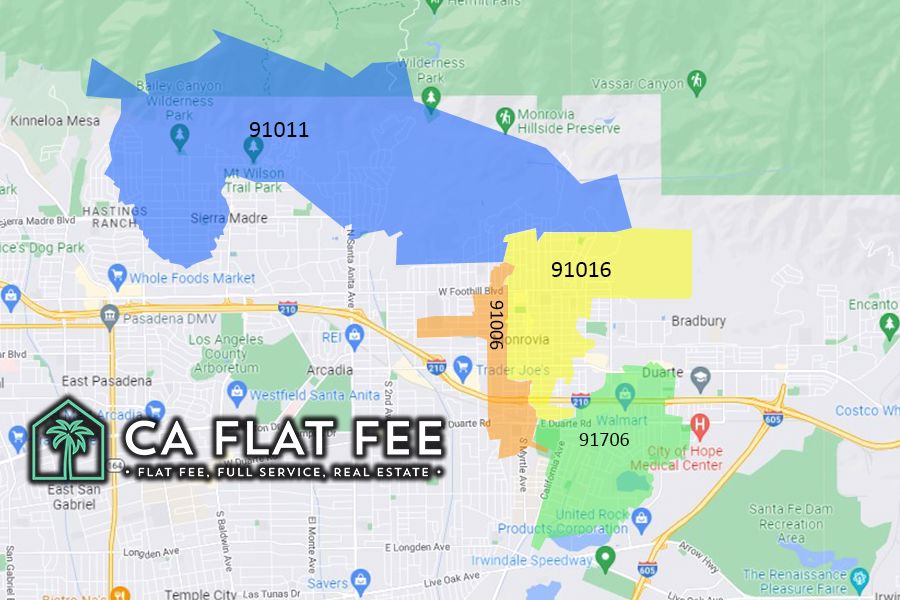 Monrovia CA, Zip Code: 91016
This is the first of only two zip codes in Monrovia, California. The city limits of Monrovia, which is mostly located in Los Angeles County, is home to the Zip Code 91016. With a population of around 40,600 people, it has a smaller land area than other zip codes in the country. A population density of 4,784 persons per square mile indicates that it is a densely populated area.
Zip Code 91016 has a large population of adults mainly between the ages of 20 and 40, as well as a larger percentage of teenage residents than comparable zip codes across the country.
The bulk of homes in this zip code, in terms of housing and real estate, were built in the twentieth century; in the 1980s or earlier. In addition, there aren't many home listings in the city. This is due to the fact that the majority of homes are either owned or have an existing mortgage. The median home value is $491,100, which is only about $47,000 short of being twice the national average.
However, Zip Code 91016 does have some affordable housing options, with individuals frequently renting their homes. The most popular type of house rental offered in this zip code is a two-bedroom apartment, with monthly rent ranging from $2,000 to $4,000+ (including utilities).
Zip Code of 91016 has a median household income of $99,881, which is above the national average of $74,099 making it a decent place to live. There are plenty of job opportunities, with nearly half of the population working full-time and more than a quarter working part-time. This is a sign of a high standard of living.
Education-wise, there are public and private schools in the area. These schools are highly-rated around the country and can be easily accessed from residential areas, with most of them located in the Monrovia Unified School District. Some of these schools include:
Monroe Elementary
Mayflower Elementary
Plymouth Elementary
Santa Fe Middle School
Wild Rose Elementary
Mountain Park
Monrovia High School
Immaculate Conception High School
Calvary Road Baptist Academy
Tzu Chi Great Love Elementary
Canyon Oaks High School
Clifton Middle School
Bradoaks Elementary
Excellence In Education Elementary
In addition to excellent schools, it also provides recreational parks and spots for those who love nature, love to explore, and have fun. Some of these places are:
Lucinda Gracia Park
Rotary Park
Library Park
Monrovia Parks and Recreation
Recreation Park
Also, you would find restaurants and cafes in this area, renowned for their mouth-savoring dishes and beverages. Such restaurants and cafes include:
Bella Sera Trattoria
The Derby
Café De Olla Restaurant
Jake's Roadhouse
Peach Cafe
Merengue Bakery and Cafe
Pieology Pizzeria
Saigon Avenue
Myrtle Tree Cowork Cafe
There are also hotels that give you the home away from home feeling. They range from five stars to one star, fitting whatever budget you may have. Such hotels include:
DoubleTree by Hilton Hotel Monrovia
Extended Stay America
Courtyard by Marriott Los Angeles
Monrovia CA, Zip Code: 91017
This zip code is located in the Los Angeles County metro area of Monrovia. Zip Code 91017 has a 626 area code. The median age in this area is 33.7 years, making it a great place for young people looking for new experiences. There are individuals in the elderly category, however, they make up a pretty minute portion of the population.
The homes in Zip Code 91017, like those in Zip Code 91016, were built in the twentieth century. In addition, the majority of residences are owned outright by families, while others have a mortgage. In this neighborhood, renting out properties to interested parties is frequent, and two-bedroom apartments are the most popular among families who relocate from all over the country.
With more people moving into the neighborhood, more businesses are springing up and the area shows signs of expansion. However, this zip code is not densely populated and also sees a pretty low crime rate making it a safe area to settle and raise a family.
The unemployment level in the United States is at 3.9% and the state of California battles with an unemployment rate of 5%. Zip Code 91017 area has an unemployment rate of 5.9%. However, over 10,000 people living in this area are full-term workers while a significant number work part-time.
In terms of education, Zip Code 91017 has one of the best public school systems in the United States while also boasting a private school system that is cost-friendly and well-founded on academic excellence. These excellent schools include:
Serendipity Early Care & Educational Center
Hayden Child Care Center
Ica Catholic School
This area is also home to restaurants and Cafes such as:
Gene's Grinders
J B burgers
Basin 141 Social Bar and Kitchen
Copper Steel Grill, and
Mikomi Sushi Monrovia
Summarily, this zip code ranks amongst those that offer decent homes and a peaceful neighborhood alongside top rated schools for quality education.
Conclusion
For some people, getting the best services, the best environment for their family, and the healthiest work environment possible is a dream. This is, nevertheless, possible in Monrovia, California. If you want to be a homeowner in Monrovia, CA Flat Fee can provide you with a full-service realtor experience for a modest flat fee in just one click!