Monrovia is a suburb in California with about 36,800 residents. Despite being the 4th oldest city in Los Angeles County, it offers a historical yet modern neighborhood. With an innovative school district, engaging community, and city programs, Monrovia is the perfect place to buy or sell a house.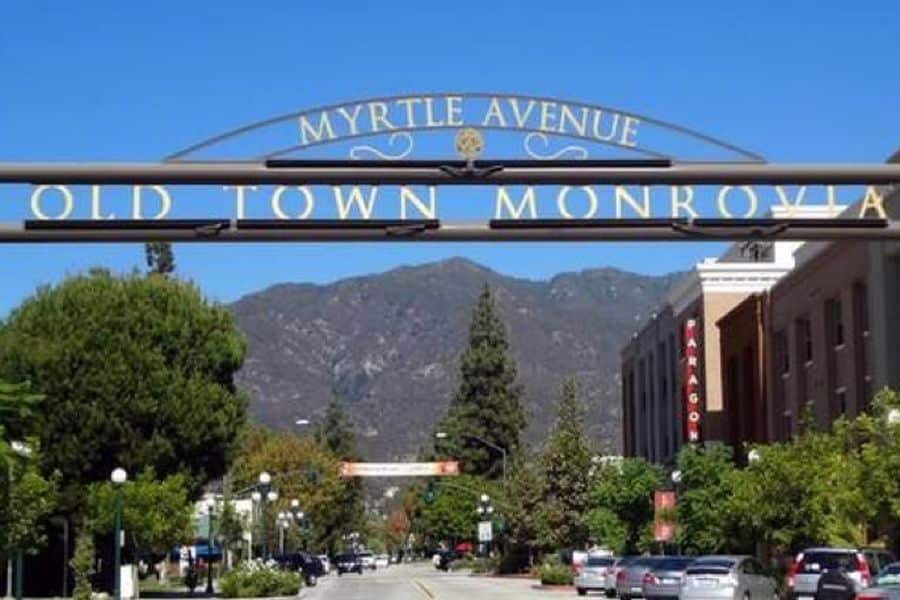 Best Places to Live in Monrovia
Looking at the map of Monrovia, and it combines that old town feeling with a touch of urbanization. It has a successful Historic Preservation program that protects the city's old structures and history. There's also the Monrovia Community Coordinating Council that brings together institutions, organizations, businesses, and council members to serve residents.
Public transportation is accessible to residents, with a 30-minute car ride to the Hollywood Burbank Airport. Companies such as Trader Joe's, Wells Fargo, AeroVironment, PricewaterhouseCoopers, and Xencor make Monrovia a jobseeker hotspot.
With a thriving real estate market, Monrovia, CA is a good place whether you're looking for a quiet suburb to retire to or grow a family.
Norumbega Drive and East Greystone Avenue
Norumbega Drive and East Greystone Avenue is a suburban area that mostly consists of 3-bedroom homes, studio properties, and townhouses. It's among the most retiree-friendly neighborhoods in California, offering plenty of safety from crime. It's within walking distance of the Kiwanis Park and Tender Hearts Child Care, making it suitable for families with school-aged children.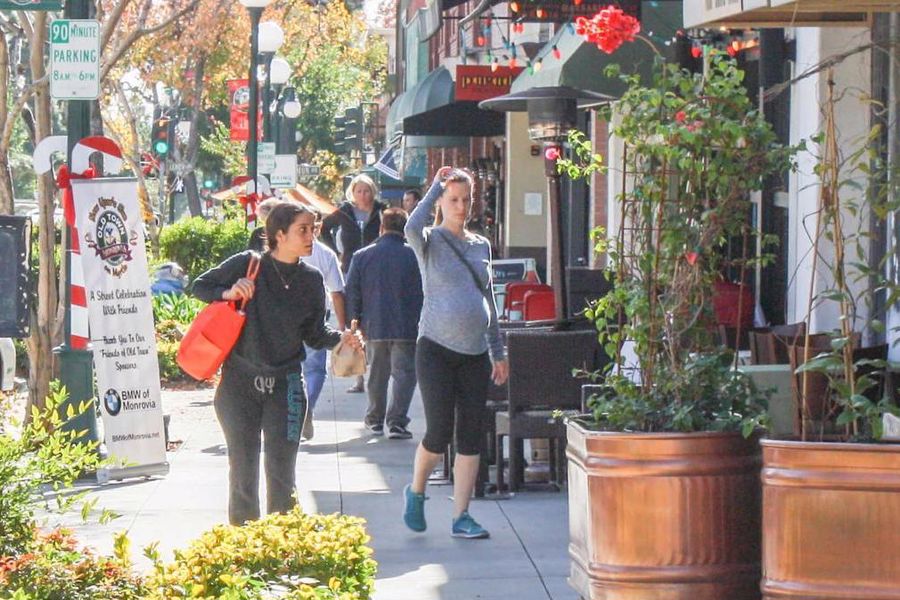 City Center
The City Center offers high-rise apartments and single-family homes. It's where you can find the City Hall, Monrovia Health Center, and Monrovia Plaza. It's also a 10-minute bike ride to the Canyon Early Learning Center and Monrovia High School, so it's a strategic place for working parents and students to meet.
West Hillcrest Boulevard and North Myrtle Avenue
West Hillcrest Boulevard and North Myrtle Avenue have single-family homes and apartment complexes. It's a 10-minute bike ride to the Monrovia Library Park, Ruby Canyon, and Tzu Chi Elementary School. It's also near the Bank of America Financial Center and Station Square Transit Village, ideal for families who need retail and office amenities.
Colorado Boulevard
Colorado Boulevard is another good place to live in Monrovia because of its access to schools like Monroe Elementary School, Monrovia High School, and Citrus College. It's home to several restaurants like The Peach Café and Café De Olla. It's also within walking distance to the Monrovia Community Garden and Lucinda Garcia Park.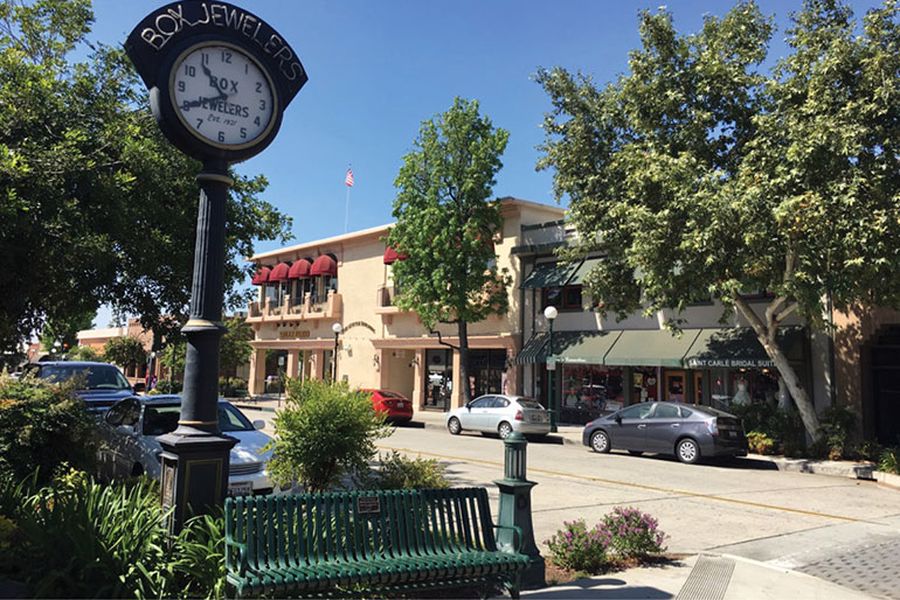 Mountain Avenue
Mountain Avenue is a long stretch in Monrovia that makes it accessible to establishments such as the Monrovia Memorial Hospital, BMW of Monrovia, and the California Business Bureau. It's also a family-friendly neighborhood near Options A Child Care & Human Services, Bradoaks Elementary School, Little Free Library, and Monrovia Skatepark.
Factors That Make Monrovia Great for Kids
Monrovia is home to daycare and early childhood education centers like the Monrovia Preschool & Daycare Center and the Canyon Early Learning Center. You also have several primary and secondary education options, including Mayflower Elementary, Wild Rose School of Creative Arts, Clifton Middle School, and Monrovia High School.
It's close to higher institutions around California, including Claremont Colleges, the University of Southern California, and the University of La Verne. Whether by car or public transit, recreation areas like the Monrovia Historical Museum, Julian Fisher Park, and Rotary Park are also accessible.
The City of Monrovia also provides youth programs for character development and academics. Your children can enjoy the Friday Night Street Fair & Market, Youth Sports, and Summer Extravaganza. Kids and teenagers can join the Monrovia Youth Baseball League, Foothill Flyers Running Club, and the United States Youth Volleyball League.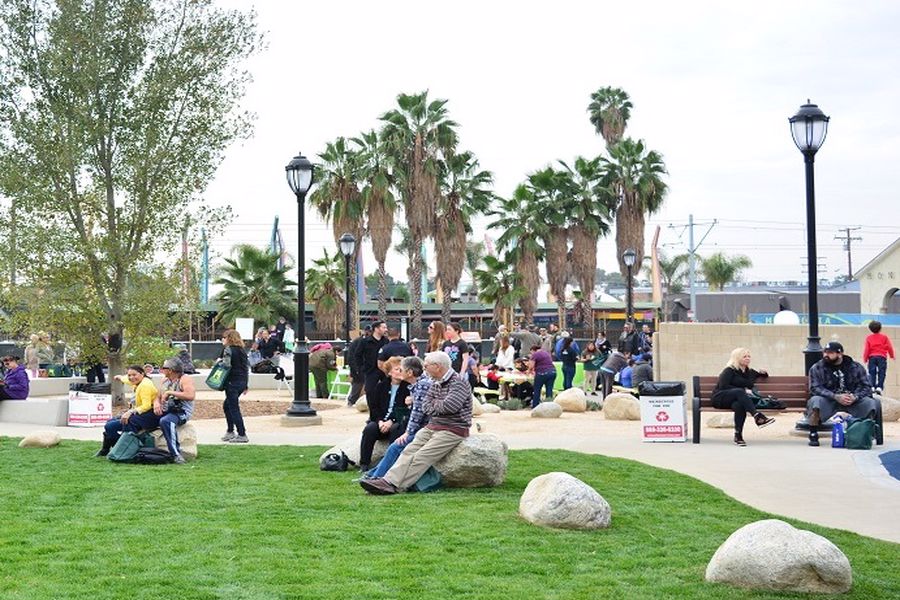 What to Expect From CA Flat Fee in Monrovia?
You won't have to pay the standard 6% commission rate when buying or selling a property. Our Monrovia realtors in California only charge a $5,000 flat fee to provide these services.
Listing and marketing: Save time and energy by letting our professional realtors handle the property showcase, photography, online listing, appraisal, inspections, and paperwork.
Client negotiation: Our realtors will also represent you in screening prospective buyers or negotiating with sellers.
Closing coordination: We use real-time data, market analysis, and local statistics to secure the best deals when buying or selling a house in California.
Contact Your Monrovia Realtor Today
Buying or selling a home is a huge decision, and there's the risk of hidden fees when working with agents. With our flat fee realtor services, you can finish transactions without unexpected costs.
For a $5,000 flat fee, our Monrovia, California realtors will offer a quick and convenient system of finding the best houses to buy or sell. We help buy and sell hundreds of properties per year, with our local realtors ranking among the best in Monrovia and other cities like Duarte and Pasadena.
If you need help navigating the real estate buying and selling market, look no further than your local CA Flat Fee agent! Please fill out this form for more information about our services.