Pasadena, California attracts a large number of tourists who are on holiday and looking for a new adventure. It offers you the perfect urban living, with exciting sites, educational centers, wonderful residential districts, and plenty of parks. With our Pasadena California Zip Code Map, you can find the finest spots to buy a home in Pasadena.
Pasadena California Zip Code Map
Pasadena, California, is a dream come true for every family, with its wonderful community, great schools, fantastic weather, and superb working environment. While there are 28 zip codes, each with its own set of benefits for individuals and families, we're only focusing on some of the most important zip codes in Pasadena, California.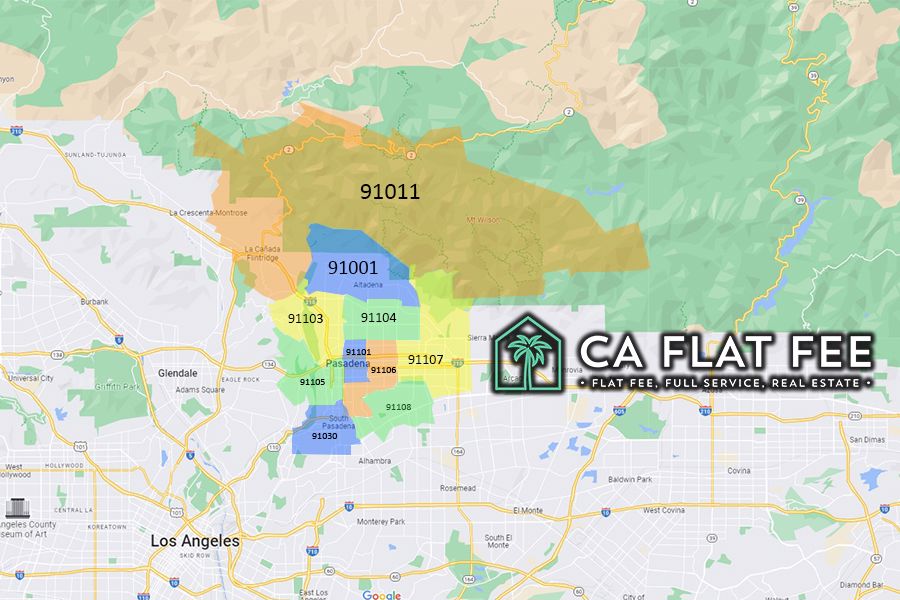 Pasadena CA, Zip Code: 91001
Southern California is home to the zip code 91001, within Los Angeles County. It is home to around 40,000 people and has a population density of 4,368 people per square mile. In addition, there are more families in this zip code than individuals, with whites and African Americans outnumbering other races.
When it comes to real estate and housing, the typical home value in this area is around $550,000, which is pretty high when compared to other parts of the country. When compared to nearby zip codes, however, house prices in this area are lower. The majority of homes in this zip code are family-owned either outright or with a mortgage. There are rentals available as well.
Apartments with two or three bedrooms are popular rentals in 91001. The majority of these flats have a monthly rental rate of $1000 or more. In terms of work and job hunting, the median household income in zip code 91001 is $85,108. In addition, workers in the area make less money than those in other zip codes.
While the area has a high percentage of people with only a high school diploma, zip code 91001 also has one of the greatest percentages of persons with a college diploma. In 91001, the educational system is excellent, with approximately 14 schools in the neighborhood. These schools are excellent choices for your children in grades K-12, and they include:
Aveson Global Leadership Academy
Pasadena Rosebud Academy
Pasadena Rosebud Academy Middle School
Meher Montessori School
Altadena Boys & Girls Academy
Sahag-Mesrob Armenian Christian School
You can also experience scrumptious food from local and international restaurants and cafes. They are as follows:
Fox's Restaurant
Partticakes
Jack In The Box
Fair Oaks Burger
The Coffee Gallery
The zip code 91001 is also home to several upscale hotels that provide a home away from home experience. The following are some of the hotels in the area:
Guided Healing Journey
El Molino
Damon House
Pasadena CA, Zip Code: 91011
The La Canada Flintridge area in southern California is covered by zip code 91011, which has a population of 20,280 people and a population density of 1,711 people per square mile. The area is dominated by European residents, with Asians making up a sizable minority.
This zip code's homes are either owned or mortgaged. Also, when compared to other zip codes, the average home value in this area is $1,000,001, which is extremely high. As a result, finding affordable homes in 91011 can be difficult. There is also the option of renting an apartment, with the most typical apartment rental being a three-bedroom flat with a monthly rental rate of over $1,000.
The average family income in this region is $156,557, and when compared to other sections of the country, the 91011 provides a more prosperous atmosphere.
La Canada Unified School District has 12 schools, offering your children access to a diverse range of excellent educational opportunities. They are as follows:
Paradise Canyon Elementary
Foothill Progressive Montessori School
The Hillside School & Learning Center
Flintridge Sacred Heart Academy
Crestview Preparatory School
You will also find restaurants and cafes such as:
Los Gringos Locos
Sakana Sushi & Grill
The Proper Restaurant & Bar
Cafe Sole
Pasadena CA, Zip Code: 91106
This zip code is in Los Angeles County and is part of the Reno metro region. The population density in this area is 8,210 persons per square mile, with a population of 24,229 people.
In terms of real estate and housing, this area's average home value is $559,000. In this zip code, however, there are some low-cost possibilities. In addition, renting flats is a typical practice in the neighborhood, with two-bedroom apartments costing in excess of $1,000 being the most popular alternative.
This neighborhood has one of the greatest educational systems in the county of Los Angeles. All of them are part of the Pasadena Unified School District. They are as follows:
Blair High School
St Philip the Apostle School
Polytechnic School
Jefferson Elementary
This area is known for having some of the best hotels in Pasadena. Some of these hotels include:
The Langham, Huntington, Pasadena
Pasadena Rose & Crown Hotel
Hotel Constance Pasadena
Also, 91106 offers amazing restaurants and cafes. They include:
Bun Bun Bao Dim Sum Express
Namaste Spiceland
The Pier Grill
Pie 'n Burger
Tom's Burgers 31
Pasadena CA, Zip Code: 91105
Southern California encompasses this zip code. It is ideal for families looking to get away from the hustle and bustle of city life, with a population density of 3,047 people per square mile.
Zip code 91105 has an average house value of $846,600, making it one of the most expensive areas in Los Angeles County to live in. It does, however, provide affordable rental housing, particularly two-bedroom apartments for $1,000 or more.
This zip code also has colleges for young adults and seniors who want to further their education. Pasadena City College, Pacific Oaks College in Pasadena, and American City University are a few examples.
Zip code 91105 is your best chance for outstanding cuisine in restaurants and cafes if you prefer a delicious meal in a relaxing environment. Some hotspots include:
La Grande Orange Cafe
Chong Qing YaoMei Hotpot, and
Beer & Claw
Conclusion
Living a great life, securing a good job, and owning a home shouldn't be difficult. If owning a home in Pasadena is something you've always wanted, at CA Flat Fee, we are capable of providing you with a thorough realtor service for a reasonable flat fee and helping you realize your dreams!